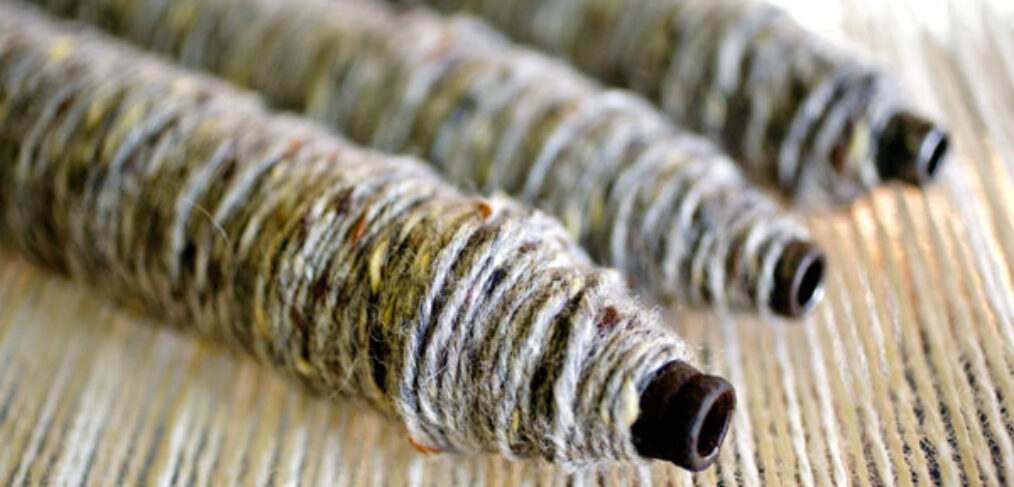 What is undeniably beautiful about Donegal is the legendary tweed. In Donegal Town itself, I dropped into Magee Clothing on the triangular piazza at the centre of town which is, in good Irish fashion, called the Diamond. Here they've been making cloth since 1866. It's not handwoven now but at least it's not made in China.
I bought a handsome cap which warmed my bald pate a bit more stylishly that the beanie it replaced. But my trail soon led me to nearby Ardara where there was reportedly some handweaving to be found.
At the first place, Triona Designs, they encourage the impression that the cloth is woven by hand but an explicit assertion to that effect is absent from all their brochures and when I emailed them to ask about this, they never replied. The woman owner was as snooty as hell, too, so I moved on round the corner to the low-ceilinged workshop of Eddie Doherty.
The sign on his door says to ring his bell and "wait one minute". That's because he's coming from two doors up the road at Doherty's Bar ("You need some other form of income coming in," he said gloomily).
Eddie was happy to demonstrate a bit of weaving and when I admired one of the jackets made from his handwoven cloth he smiled modestly. I slipped one on. It fitted perfectly and felt warm and snug. "Sure and it looks good on you, that it does," said Eddie. You wouldn't call it hard sell, but it was irresistible. I paid up. Eddie's one of a very small handful of handweavers making Donegal tweed these days. Young folks aren't picking up the craft – most young people in Ardara (population 500) wouldn't know what he does, says Eddie.